From history to the present
Written records of Kopečná Street date back at least to the end of the 14th century when Valtice consisted of a church and several buildings that formed a centre bordered by walls and moats. At that time, Kopečná Street was located right next to these walls and, together with the neighbouring buildings, formed the suburbs of the town.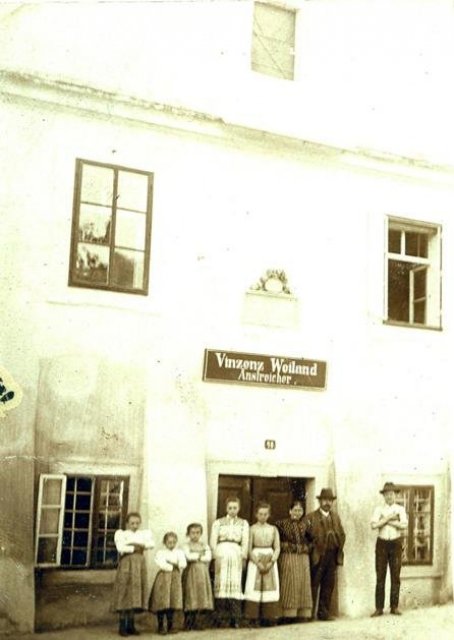 The vineyard house then had house number 49, which was changed to the number 48 in the 1970s. This happened on the occasion of the merging of the town into one whole and the renumbering of all buildings. The original memorial plaque on the front facade points to this event. The oldest part of the house – the wine cellar with a press dates back to the 17th century when the city under the rule of the Liechtenstein family experienced significant growth.
Valtice has always been a strategic, and especially militarily important place, and therefore has undergone many changes. One of the biggest catastrophes that hit the vineyard house in 1801 was the extensive fire of the town bakery, after which the necessary reconstruction was carried out. In the following decade, the building did not change fundamentally, the owners changed and further modifications of the building were not made until the second half of the 20th century. As the buildings were large, it was not easy to keep them in good condition, so they gradually fell into disrepair, the cellars were flooded with a tall layer of mud, and until the late 60s of the 20th century, there were even the most basic resources to fully inhabit the house.
The house received great honors when it was listed in the state list of real estate of cultural monuments of the South Moravian Region in November 1983. After the death of the last owners, the survivors sold the buildings to a company in 2014, which ended its private use. However, thanks to this, a complete reconstruction of the whole building and the immediate surroundings could be started. This restored it to a well-deserved representative look and enabled it to be re-used with dignity and further develop its potential.
The present of the Valtberg resort
The buildings and wine cellars have undergone a major reconstruction, cleaning, and renovation, the result of which shows how fundamentally the few decades of neglect have affected this place. We can now proudly say that the Valtberg resort is celebrating its original purpose and currently offers a very original and highly comfortable environment for lovers of good wine, food, culture, and sports.